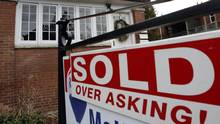 It's not the first time Fitch Ratings has issued such warning about household debt and real estate values.In its latest report, Fitch details how the "Canadian consumer has essentially had to lever up to keep pace with the growth in home prices," and how values have surged in Toronto and Vancouver, in particular.While the country's banks are insulated via the insured mortgages of Canada Mortgage and Housing Corp., Fitch nonetheless warned that "two key catalysts for a potential deterioration in consumer credit are general housing affordability issues … as well as potentially elevated interest rate sensitivity of borrowers."The recent report by analysts Justin Fuller and Christopher Wolfe is a 2015 outlook for Canada's banks. Its rating outlook is "stable," while its sector outlook is "negative.""The key macroeconomic driver of Fitch Ratings' outlook is the high level of consumer indebtedness in Canada, which Fitch still believes to be at unsustainable levels," the agency said."This, combined with what Fitch believes to be signs of overvaluation in the Canadian housing market, particularly in areas such as Vancouver and the Greater Toronto Area, begets a cautious view of consumer credit and thus the negative sector outlook."Still, Fitch expects a soft landing for the housing market, despite the "high and unsustainable levels" of debt.Further, where the banks are concerned, Fitch cited their "good" earnings, their "resilient overall operating performance" over the years, their "solid balance sheets" and, again, the fact that CMHC "insulates" them."Given Fitch's view of a soft landing of the Canadian housing and mortgage market, Fitch would expect a slowdown in earnings from the Canadian banks' consumer businesses, which are the banks' largest," it said."Should the landing be somewhat harder, higher provision expense is likely to materially affect earnings performance."Canadian consumers are juggling $1.8-trillion in debt, almost $1.3-trillion of that in mortgages.And this, the Bank of Canada warned just last week, is a significant threat.

And while we're on the subject, home construction pushed higher in Canada last month.The annual pace of housing starts rose in November to 195,620 from October's 183,659, CMHC said today.British Columbia, Quebec, Ontario and eastern Canada drove the pace in urban areas, the agency said.Behind the increase was a push in multiples, such as condos, at 112,583, while construction of single homes fell.A six-month moving average, which better illustrates the trend, was fairly steady at 195,792.The value of building permits, in turn, according to Statistics Canada today, rose 0.7 per cent to $75.-billion in October.That was largely on permits in B.C., Alberta and Saskatchewan."The result was close to expectations, and continues to suggest that overall homebuilding activity in Canada is running about in line with what is needed to satisfy demographic demand and some replacement," said senior economist Robert Kavcic of BMO Nesbitt Burns, referring to the housing starts."While the Bank of Canada has household imbalances on the watch list of risks to financial stability, there still doesn't appear to be much overbuilding to worry about - and that goes for Canada's three hottest cities as well."He was referring to Vancouver, Calgary and Toronto.
The Canadian dollar tumbled today as oil prices sank again, sliding ever closer to the 87-cent mark.The loonie, as Canada's dollar coin is known, fell to a low of 87.08 cents U.S., its weakest since the summer of 2009.This came as the oil market continued to be routed, with Toronto stocks plunging, as well.And a new report today from Canadian Imperial Bank of Commerce suggests the currency's woes are far from over, though that's good news for the country's exporting manufacturers.CIBC economists, in a new currency outlook, forecast that the loonie will sink to about 85.5 cents by early next year, then edge lower in the second quarter and then close in on the 81-cent level by the third quarter.And with the Bank of Canada sitting on the sidelines, and expected to lag the Federal Reserve in hiking interest rates, it certainly won't be supporting the currency."If narrowing interest rate differentials and a booming U.S. dollar weren't enough, we now have a bout of commodity weakness, centred on oil, to weigh on the Canadian dollar," said the CIBC economists."The correlation with oil shifts over time, but is well grounded in the fact that energy products are now a quarter of Canada's exports, and therefore significant in generating flow into [Canadian dollars]."As for stocks, Toronto's S&P/TSX composite sank by more than 2.5 per cent by about midday as oil tumbled amid sour economic news from China and Japan."Oil and mining stocks spent the trading session offside as a sudden contraction in Chinese imports left commodity stocks out in the cold," said market analyst David Madden of IG in London."Traders are coming to the realization that without a new round of monetary easing from Beijing, there is little reason to buy mineral-related companies. There is no sign of the collapse in commodity stocks coming to an end any time soon."
The oil market slump is taking its toll on Canada's Precision Drilling Corp., which warned today it expects to halt its rig-building operations after fulfilling several deliveries.The Calgary-based company plans to deliver 15 rigs in the U.S. in 2015, and one in Kuwait, The Globe and Mail's Bertrand Marotte reports, and then reassess. At the same time, it's cutting its capital spending for next year to $493-million from $885-million."Following the delivery of the 16 rigs, I expect our rig building activity will be idled until we see an improved commodity price environment and rising customer new build demand," chief executive officer Kevin Neveau said in a statement.Precision Drilling is hardly alone amid the collapse in oil prices.ConocoPhillips said today it's slashing next year's capital budget by some 20 per cent to $13.5-billion (U.S.).Largely behind that is the fact that several big projects are almost done, meaning less spending.Nonetheless, said chief executive officer Ryan Lance, "we are setting our 2015 capital budget at a level that we believe is prudent given the current environment."
Two majority-owned units of Brookfield Asset Management Inc. propose a merger they say will form the world's biggest producer of oriented strand board.Norbord Inc. today unveiled a $762.6-million deal for Ainsworth Lumber Co. Ltd. that would combine the former's seven North American mills with Ainsworth's three.Brookfield will own about 53 per cent of the new company.